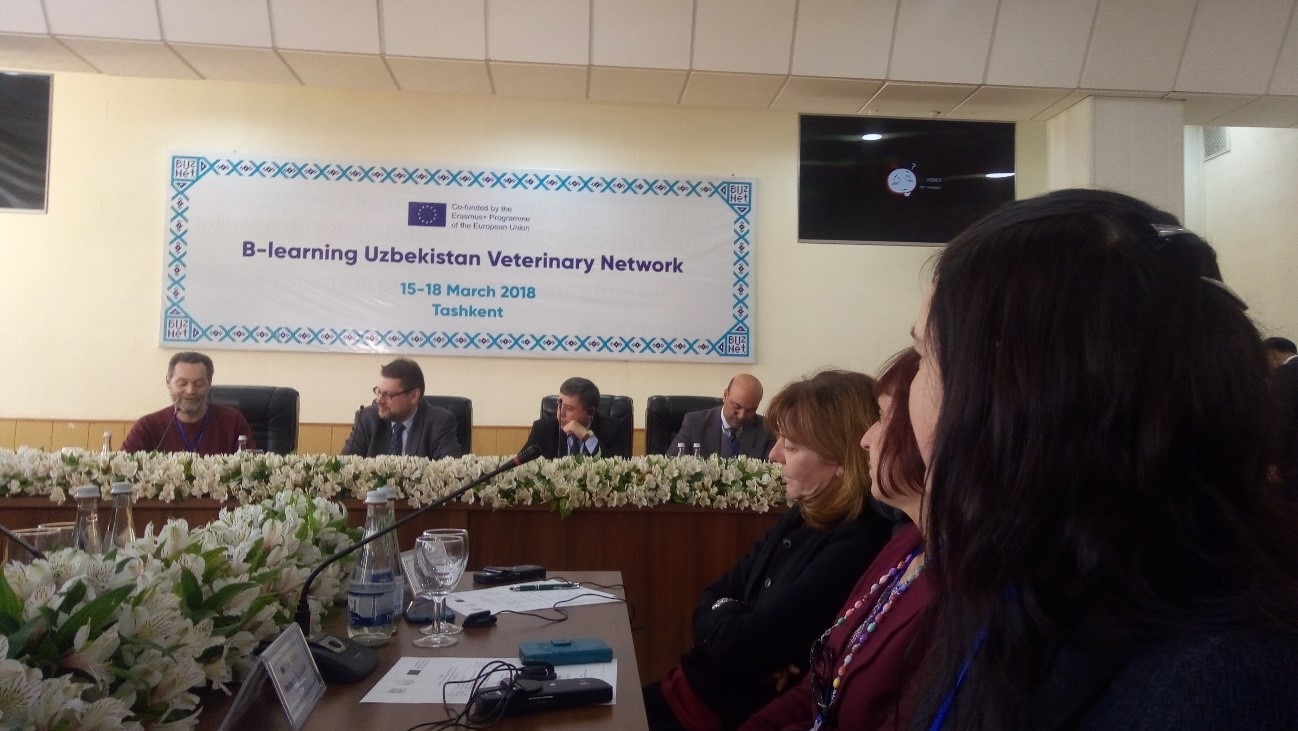 The Kick-off meeting of the B-learning Uzbekistan Veterinary Network / BUzNet project took place on the 16th and 17th of March in Tashkent, Uzbekistan, with 23 participants from the project´s consortium of Higher Education Institutions (HEIs) from Portugal, Italy, Estonia and Uzbekistan. Representatives from the Ministry of Higher and Secondary specialized education were present in the official project´s launch, on the 17th of March, together with the Ambassador of the EU Delegation to Uzbekistan, a representative from the National Erasmus Office in Uzbekistan, as well as representatives of the associated public and private sector partner institutions.
Moreover, the European experts started a field trip on the 12th of March until the 24th March to collect data from the local areas of Andijan, Tashkent, Nukus, and Samarkand regarding the current situation of veterinary practices in farms, clinics, dairy farms, and quality control practices at milk processing manufacturers and milk companies.
The B-learning Uzbekistan Veterinary Network / BUzNet project is coordinated by the U.Porto and funded by the European Commission for the next 3 years (until 2020), through the Erasmus+ programme's action 2 Capacity Building Higher Education. The general objective of the BUzNet project is to increase the life standards of common Uzbek people through improved veterinary and zootechnical teaching and learning, which will ultimately result in better technical support for local herds' owners and safer animal products reaching the general society.
A consortium of 4 European HEIs and 4 Uzbek HEIs will implement the BUzNet project. After the needs analysis and preparatory stage, a group of Uzbek young professors will be trained in the partner European HEIs to have contact with new practices and learn about new ways of teaching practical subjects and using B learning strategies to assist them doing so. The core innovation of the project's approach is the use of a B-learning interface (BLUzVet) that will create a learning community consisting of all members of the project consortium, teachers, students and veterinarians.
In the future, this system will be extended to members from other countries and regions. The network formed within this project encompasses different backgrounds in the education Veterinary Sciences and will improve the setting of veterinary, animal production management and milk quality control teaching standards in Uzbekistan and beyond.